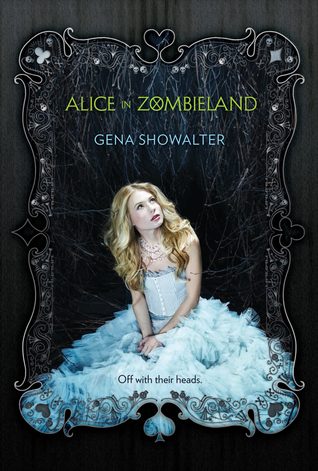 Genre: YA Paranormal > Zombies
Publisher: Harlequin Teen
Axie's Rating:
4 out of 5
Cover Envy:
I have no cover envy. These covers are the worst.
Had anyone told Alice Bell that her entire life would change course between one heartbeat and the next, she would have laughed. But that's all it took. One heartbeat. A blink, a breath, a second, and everything she knew and loved was gone.




Her father was right. The monsters are real.




To avenge her family, Ali must learn to fight the undead. To survive, she must learn to trust the baddest of the bad boys, Cole Holland. But Cole has secrets of his own, and if Ali isn't careful, those secrets might just prove to be more dangerous than the zombies.
You Should Read This Book/Series if you Like:
**Paranormal elements.
I wouldn't necessarily call this series Paranormal Romance b/c there isn't any romance between a human and a non-human. It's about slayers fighting zombies.
**Extreme Alpha males.
Which I honestly think aren't too popular in YA. They show up more in the Romance genre. But Showalter is a Romance author, so her boys are extremely aggressive/sexual.
**Sexual tension galore.
He loves me not...he loves me.
**Lots of snark.
Kat (Ali's BFF) is the queen of snark.
**Lots of characters.
Ali, Cole, Kat, Frosty, Reeve, Mr. Ankh, Bronx, Mackenzie, Justin, + many more.
**If you DON'T like zombies.
The zombies in this book are not really zombies, so if you're afraid of zombies, then this book is for you.
**A Romance book transformed into a YA book, courtesy of Romance author Gena Showalter.
Quick Plot:
Sixteen year-old Ali Bell's whole family dies in a car crash. Waking in the wreckage of the crash, she witnesses zombies coming to finish off the bodies of her parents & little sister. After this extremely traumatic incident, she goes to live with her grandparents, attending a new school. On the first day of school, she locks eyes with this HOT DUDE and they have a vision in which they're kissing. Apparently, these visions are of the FUTURE. She finds out hot guy (+ his friends) fight zombies. She joins them in order to fight zombies, too! [Oh man, that was a bad plot overview].
Review:
Obviously I enjoyed this book. I gave it 4 stars for the fact that it was just...extremely entertaining. It's not mind-blowingly deep or emotional, but it's super fun with lots of sexual tension between the hero and heroine. Other than the super depressing beginning, the rest of the series is fast-paced and fun.
Genre: YA Paranormal > Zombies
Publisher: Harlequin Teen
Axie's Rating:
3.5 out of 5
Cover Envy:
That is definitely a different model than the first book.
Zombies stalk the night. Forget blood and brains. These monsters hunger for human souls. Sadly, they've got mine...




Alice Bell has lost so much. Family. Friends. A home. She thought she had nothing else to give. She was wrong.




After a new zombie attack, strange things begin to happen to her. Mirrors come to life, and the whispers of the dead assault her ears. But the worst? A terrible darkness blooms inside her, urging her to do very wicked things.




She's never needed her team of zombie slayers more, but ultra bad-boy Cole Holland, the leader and her boyfriend, suddenly withdraws from her...from everyone. Now, with her best friend Kat at her side, Ali must kill the zombies, uncover Cole's secret and learn to fight the darkness.




But the clock is ticking...and if she fails at a single task, they're all doomed.
Quick Plot:
The above synopsis is pretty accurate.
After the events of book 1, Ali is now embroiled with the zombie slayers and their leader--sexy, bad-ass fighting machine Cole Holland. But when a zombie attack poisons Ali's blood, strange things begin to happen to her, which doesn't help when Cole and Ali have a vision (& they always come true) in which she's kissing another boy. With Cole keeping his distance and the rest of the slayers weary of Ali's erratic behavior (she's blacking out, seeing things), she has to figure out what's happening to her before...the darkness consumes her.
Not really a spoiler alert
:
"the darkness" is an alternate-Ali who surfaces after Ali's blood is poisoned and makes her do crazy stuff.
Review:
This book was super fast-paced. The angst was a little contrived (After Cole sees Ali kissing a mysterious guy in a vision, he breaks up with her), but it's still angst--which is always fun in YA. This is also the longest of all three books, but I read it the quickest, which goes to show that it's pretty unputdownable. There's the introduction of new characters, namely a boy & girl from another slayer group, Gavin & Veronica, who create complications and misunderstandings between Ali & Cole. It's a "second" book (aka the Breakup Book, or the Book Before the Finale) but it's a really entertaining one.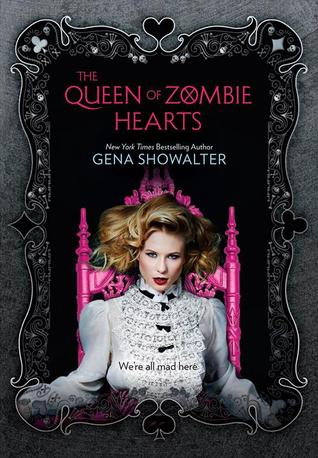 Genre: YA Paranormal > Zombies
Publisher: Harlequin Teen
Axie's Rating:
3 out of 5
Cover Envy:
Admittedly, I like this cover the best, but it's still pretty bad. Why must they have full face views of the characters on the covers? At least give us profiles. I don't like being told/shown what the character looks like. Especially if that's not how I'd imagined them looking...at all.
Quick Plot:
After the events of the first book, Ali & Cole are stronger than ever, ready to finally face down Anima once-and-for-all. The book begins with a massive attack by Anima (in which 4 slayers lose their lives) & Ali and crew plan an counter-offensive. Meanwhile, Ali is being visited by a mysterious Watcher (a ghost-like guardian who stays around after death to help the living) named Helen, a slayer, who gives Ali new, extraordinary powers. But Cole doesn't trust Helen. In fact, she's the woman who killed his mother. When Ali is captured by Anima Industries (for
experiments),
Cole has to save her or end up losing his ALI-GATOR forever.
Review:
I gave this the lowest score of the 3 books, but not because I didn't enjoy it. It seemed like fan fiction of the first two books. Meaning, every significant character gets lovey-dovey time with their significant other. Every character (& I mean every character) talks like Kat, that is, super snarky and full of ridiculous quips that no one would actually say in real life. It's like teen-speak on crack. And the book overall moved slower than the other two b/c there wasn't as much emotional angst or discovery, as there was in the first and second book. But, like I said, still very enjoyable and a definite need-to-read if you've read and enjoyed the first two books.
Concept:
Alice in Wonderland was totally just a "concept", a theme to work the series around and draw in readers. This book has nothing to do with the original Lewis Carroll children's classic, other than the names and some chapter titles, and the fact that Ali's dead sister communicates with her through a white rabbit.
Main Character:

Ali's a pretty straight-forward YA heroine. She's blonde, weak-looking, but very beautiful and strong.
Love Interest:
I really like Cole, even though he's ridiculous. Weirdly, the author is vocally in love with Cole. Here's a look at his POV: A Note from Cole. Apparently, this is how she sees him:
I'm okay with this.
Favorite Secondary Character:
Kat. I legit
laughed
out loud at some of her lines. By the third book, every character pretty much has morphed into a version of Kat (bombastic humor).
Quote:

"You're my friend," [Kat] said. "That means something to me."

"Yes, but why do you like me?" I asked. "I'm nothing special."

"Nothing special? Everyone makes fun of love at fight sight, but Ali, that's what I felt for you. Love, not like. You're the sister I never had, but always wanted. The day we met, when I walked into your hospital room, I saw a scared, pale girl with the most haunted eye. You'd lost everyone, and I understood. I had to bury my mom, my world, too. So, why don't you do me a favor and think about why you love me—or if you do?"

"I don't have to think." - Through the Zombie Looking Glass
Villain:
It's Anima Industries overall (a company that researches zombies in order to create medicines, etc.); evil alternate-mirror Ali in the second book.
Quote:

Zombies were spirits, the source of life—or afterlife in their case—and had to be fought by other spirits. That was why, to engage, we had to force ours out of our bodies, like a hand being pulled out of a glove. - Through the Zombie Looking Glass.
World Building:
It's a present-day Alabama if soul-eating zombies existed.
Writing:
Fun. [See above]. Very readable, w/ lots of snarky dialogue.
Diversity:
Like most titles in the YA Paranormal Romance/Urban Fantasy genre, this is lacking diversity.
Recommendations: Kresley Cole's Arcana Chronicles, for the similar snarky spirit & fun cast of characters.
Final Thoughts:
Overall Series Rating:
3 out of 5.