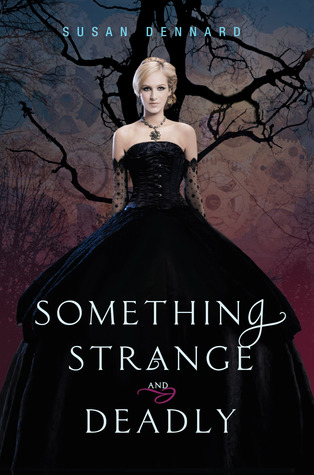 Genre: YA Horror > Necromancers, Steampunk, Historical Fiction
Setting: Philadelphia during the Great Exhibition, 1876
Characters: Eleanor Fitt, Daniel Sheridan, Joseph Boyer, Elijah Fitt, Jie Chen, Clarence Wilcox, Allison Wilcox, Marcus Duval, Oliver
Copyright: 2012
Publisher: HarperTeen
Hardcover: 388 pages
Axie's Rating:
3 out of 5
There's something strange and deadly loose in Philadelphia...



Eleanor Fitt has a lot to worry about. Her brother has gone missing, her family as fallen on hard times, and her mother is determined to marry her off to any rich young man who walkers by. But this is nothing compared to what she's just read in the newspaper—





The Dead are rising in Philadelphia.





And then, in a frightening attack, a zombie delivers a letter to Eleanor... from her brother.





Whoever is controlling the Dead army has taken her brother as well. If Eleanor is going to find him, she'll have to venture into the lab of the notorious Spirit-Hunters, who protect the city from supernatural forces. But as Eleanor spends more time with the Spirit-Hunters, including the maddeningly stubborn yet handsome Daniel, the situation becomes dire. An now, not only is her reputation on the line, but her very life may hang in the balance.
Cover Envy:
The model looks like
Leigh Bardugo
.
Read this series if you like:
**Susan Dennard's
blog
. It's really awesome & I definitely recommend it to aspiring writers.
**YA books with these genre elements: zombies, steampunk, necromancy, romance, mystery
**YA Historical Fiction
set in in the 1800's. Book 1 takes place in Philadelphia, Book 2 in Paris, & Book 3 in Egypt.
**Upper class-working class romance
. The love interest is a working class inventor.
**First Person-tense narration w/ a female protagonist.
The book is very much in Eleanor's "voice", which is very distinctive. She has a somewhat over-the-top English Miss personality (even though she's American). Like she says "daresay" a lot and speaks without contractions.
**A Join the Team plot.
Eleanor's a somewhat ordinary teenage girl (in the 19th century) who teams up with the Spirit-Hunters to fight zombies.
Genre:
YA Horror >
Necromancers
, Steampunk, Historical Fiction
Setting: Paris, 1876
Characters: Eleanor Fitt, Daniel Sheridan, Joseph Boyer, Elijah Fitt, Oliver, Jie Chen
Copyright: 2013
Publisher: HarperTeen
Hardcover: 406 pages
Axie's Rating:
3 out of 5
With her brother dead and her mother on the verge of insanity, Eleanor Fitt is utterly alone. Even the Spirit-Hunters—Joseph, Jie, and the handsome Daniel—have fled to Paris. So when Eleanor begins to hear the vicious barking of hounds and see images of haunting yellow eyes, she fears the worst—that the Dead, and the necromancer Marcus, are coming for her.





To escape and search out the Spirit-Hunters, Eleanor boards a steamer bound for France. There she meets Oliver, a young man who claims to have known her brother. Though friendly, Oliver entices Eleanor with necromancy and black magic, yet as long as she can resist his powerful temptation, she'll be fine. But when she arrives in Paris, she finds that the Dead have taken over the city...and there's a whole new evil lurking. With the body count rising, Eleanor is forced to make a deadly decision that will go against everything the Spirit-Hunters stand for.





In Paris, there's a price for this darkness strange and lovely...and it may have Eleanor paying with her life.
This book introduces the third main character in the series (after Eleanor and Daniel)--Oliver, the demon. If you liked the first book, you'll undoubtedly like this one, since it's more of the same, except in Paris, France.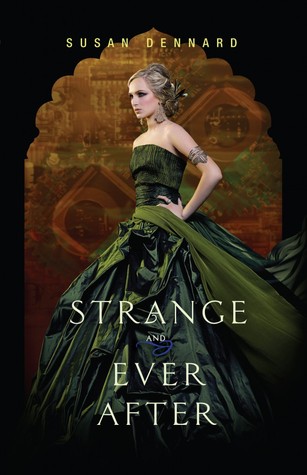 Genre: YA Horror > Necromancers, Steampunk, Historical Fiction
Setting: Egypt, 1876
Characters: Eleanor Fitt, Daniel Sheridan, Oliver, Joseph Boyer, Marcus Duval, Jie Chen, Allison Wilcox
Copyright: 2014
Publisher: HarperTeen
Hardcover: 400 pages
Axie's Rating:
2 out of 5
He took her brother, he took her mother, and now, Marcus has taken her good friend Jie. With more determination than ever to bring this sinister man to justice, Eleanor heads to the hot desert streets of nineteenth-century Egypt in hopes of ending this nightmare. But in addition to her increasingly tense relationships with Daniel, Joseph, and her demon, Oliver, Eleanor must also deal with her former friend, Allison, who has curiously entangled herself in Eleanor's mission.





With the rising dead chomping at her every move and Jie's life hanging in the balance, Eleanor is convinced that her black magic will see her through to the bitter end. But there will be a price. Though she and the Spirit Hunters have weathered every battle thus far, there will be consequences to suffer this time—the effects of which will be irreversible. And when it's over, only some will be able to live a strange and ever after.
Cover Envy:
This cover is by far the best one in the series. The makeup, jewelry and gown are gorgeous, and her pose is fierce. The heavy eyeshadow is very Cleopatra-esque in the spirit of the book (it's mostly set in Egypt).
Review:
Alright, here is where I'll get a little rant-y, because I did not enjoy this last book. In fact, I kind of wish Susan Dennard would just write a completely different last book and call this one a dud. Eleanor was extremely unlikable in this book, and the main "theme" or take-away of this novel (& series, probably) did NOT sit right with me AT ALL; anyway, here goes nothing...
Because of events (Marcus murdering both her brother & mother) in the past, Eleanor, understandably, wants to kill Marcus. Also, she's grappling with her burgeoning necromancy powers, which her friends clearly disapprove of, with the exception of Oliver, her demon. Those are the main character conflicts for Eleanor: her revenge & her dark powers. Okay, those are totally fine character conflicts; HOWEVER, Eleanor goes about dealing with them in a really irritating way, aka, she makes some super selfish decisions. There's definitely a not-so-fine line between someone who's independent and free-thinking versus someone who inherently just cares about themselves. A lot of YA books have a storyline that focuses on a young woman fulfilling her dreams and desires in a world that makes it difficult for her to (which is a GREAT story line). I think this story line was trying to achieve that, but sort of failed...
I don't know how many times the words "my" or "mine" were italicized, but holy crap. Eleanor's always emphasizing that it's "my" powers which save everyone. It's "my" life, so she can do whatever she wants regardless of hurting others. Oliver is "my" demon. Daniel is "my" inventor. Jie is "my" friend. I have nothing against the word "my"....but it really began to sound like "me, me, me", which just made me mad at Eleanor for...seeing the world in such a self-absorbed way.
She just makes a ton of selfish decisions in this book, which are just infuriating....because...the book is never like "but she learned from her lessons". It's like....oh yeah, she's selfish, but hey, she's special cause she's a "misfit" (her name is Miss Fitt) and therefore special and different and better than ordinary girls. And I'm like....just because you're powerful and independent doesn't mean you're better than anyone else...blahhhh. And just because you've traveled to Egypt doesn't mean you can teach about Egyptian history....omg [this is what she wants to do at the end of the book].
1 star because I read the whole thing. Another star because I super admire & respect Susan Dennard, as a human being.
Concept:
I think most aspiring YA authors have read Susan Dennard's super informative and easy-to-use blog.
In her "how I got published" post, she speaks about how her querying process was fairly straight-forward b/c she was able to "sell" her hook. It's a great set-up; a YA Steampunk novel set in 19th century New England w/ zombies. It's a great concept.
Main Character:
Not including the 3rd book [see my epic rant above], I think Eleanor's a pretty straightforward YA heroine. She's an independent girl trying to break away from the constraints of her class and society's gender-roles. She's coming into her own as a necromancer, and she falling in love with a cute working class boy who also fights zombies.
Love Interest: Daniel Sheridan. I really like Daniel. I haven't read the mini prequel from his point-of-view, A Dawn Most Wicked, but of the characters in the book, he's my favorite. He's brave & loyal. He says "I reckon" a lot...he knows how to fly an airship.
Favorite Secondary Character:
Oliver. He's definitely the most complicated of the characters. His loyalties are...suspect, which makes him intriguing.
Diversity:
Joseph is a Creole... Jie is Chinese. They're sort of defined by their race, so I'm not sure how diverse this is, but whatever.
Villain:

Marcus Duval. The book revolves around the villain. Who's actually not that scary, mostly because the books don't have that "horror" feeling even if there are zombies.
World Building:
It's thin, but understandable. The zombies are super not-scary. They shamble along...and are easily killed through electric pulses or "magic". Eleanor does all her magic by saying "sum veritas", which means "I am life" (or "I am truth").
Writing:
Because it's very much in the "voice" of Eleanor, I'm not a fan of the writing. Dennard uses the word "So" a lot to begin a sentence, which is a huge pet peeve of mine.
Recommendations: For a darker YA historical w/ some sci-fi/fantasy elements, try out Megan Shepherd's The Madman's Daughter. For a fun YA steampunk novel, check out Gail Carriger's Etiquette & Espionage.
Final Thoughts:
I suggest reading the first book (and if you like it, the second), but skip the third. Which is how I feel about the Divergent series and the Hunger Games series, as well, so it's not that harsh of a criticism. I think I'm going to do a blog post on
an Author writing for Fans versus an Author writing for....other reasons, like Sensationalism or To Prove a Point or....to Say Something Thematically Relevant
. The last book was not written for the fans. There is not a happy ending. I was okay with the unhappy ending b/c I'm not overtly attached to the characters....but IF I was a super fan, I'd be legitimately upset. And not all books have to have happy endings; however, I do think all books should have satisfying endings.
Overall Series Rating:
2.5 out of 5